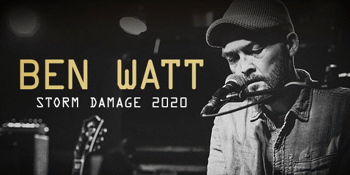 David Roy Williams presents
CANCELLED - Ben Watt - Storm Damage 2020
Northcote Social Club (Northcote, Melbourne, VIC)
Saturday, 6 March 2021 8:00 pm
Ben Watt and his band will perform gems from his near 40-year career at three very special Melbourne and Sydney shows this April.

Ben Watt's breakthrough 1982 5-track EP Summer into Winter featured Robert Wyatt on piano and backing vocals and his sparse atmospheric 1983 debut album "North Marine Drive" reached #9 in the UK Indie Album Chart featuring solos from British alto sax giant, Peter King.

"The gentle mesh of flowing melody, woven instrumentation and mood of hard-earned contemplation adds up to something quite profound." The Telegraph

In 1983 Ben put his solo plans on hold to perform and write full-time with Tracey Thorn in Everything But The Girl. The duo delivered 12 UK Top 40 singles including "Missing" and "Wrong", and nine studio albums including the Top 10 "Walking Wounded" and "Temperamental".

With Everything But The Girl going out at the peak of their popularity Ben moved into record production, DJing, and clubland. He launched award-winning label Buzzin' Fly in 2003, toured internationally as a DJ (including Coachella and Australia's Good Vibrations), and was nominated for 'Outstanding Contribution to Dance Music' at the 2009 DJ Magazine awards. Watt is also a celebrated author of two award-nominated books and travelled to Australia in 2014 to present his memoir Romany and Tom (Bloomsbury) at the prestigious Melbourne Writers Festival.

"Jazzy, bluesy, slightly overdriven, passionate and poetic … Watt has worn many hats but these songs fit him like a glove." The Washington Post

In 2014 Ben Watt returned as a singer-songwriter for his award-winning album, "Hendra", and again in 2016 for the ecstatically reviewed "Fever Dream", which earned comparisons to Tim Buckley, John Martyn, Jackson Browne and David Crosby. Each featured Bernard Butler (ex-Suede) on lead guitar.

"In his early fifties, Ben Watt is making some of the best music of his career." The Guardian

Now in 2020 Ben presents his new album "Storm Damage". Sonically adventurous, lyrically detailed and engaged, it is a personal journey through anxiety and change cut through with an insistent defiance.

Join Ben and his band in celebration with a night of beautiful music, evocative lyricism and exceptional song-craftsmanship.